There are now over 100 Rwandan community leaders using TFT to help their countrymen, like Jean Pierre and Kamal.
The UK Association for Thought Field Therapy Foundation's mission is to spread the use of TFT and its profound healing throughout the world.
The Foundation has developed and proven a model to bring TFT to any traumatized community, where leaders can be trained to help their fellow countrymen. In three random controlled studies in Rwanda and Uganda, results showed significant improvement and follow-ups have demonstrated the results last and even improve over time.
They documented the healing of this region in Rwanda, and the beginning of this process in Uganda, over the last six years. This documentary, "From Trauma To Peace," will enable us to share the trauma relief story with the world.
Please donate and help us share the documentary with the world:
The campaign is a fund raiser for the editing and distribution of this important documentary. Additional funds from the campaign will go directly to the centers in Rwanda and Uganda that are actually helping trauma victims.
Please donate:
Donate in US Dollars:
---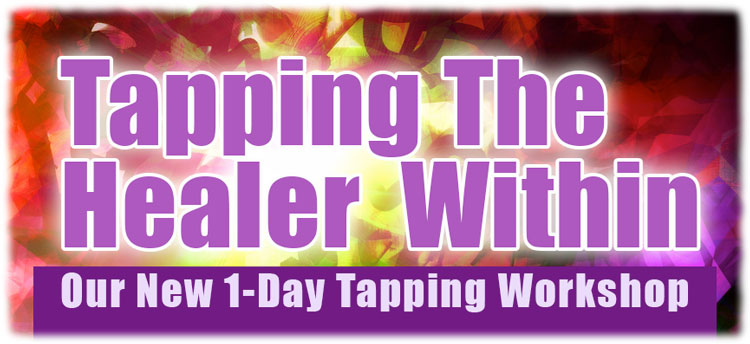 Join Us At The All-New TFT Tapping Workshop
Friday May 3, 2013 in Birmingham, UK
A Live Event for Those Wanting To Master TFT In Their Daily Life!
In response to the large number of requests from people around the world who ask us how they can put the full power of Thought Field Therapy® into effect in their daily lives, we've decided to create a high-intensity 1-day workshop to share the proven tapping sequences of Thought Field Therapy.
All profits will go towards the UK Foundation
trauma relief missions
Friday May 3, 2013 – Birmingham, UK
Only £149
---
Get The Spring Tapping For Humanity Newsletter…
Please enjoy this issue, learn from the applications presented, and share it with everyone you know.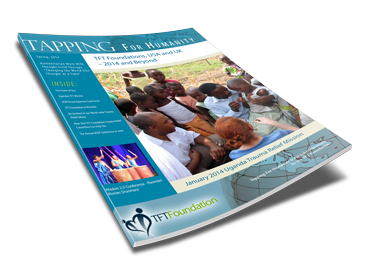 Join us in helping our foundations, both in the USA and UK, continue their research, education and trauma relief programs worldwide. You can contribute using the Donate button on the right of this webpage. There are not too many places you can donate where you can see over 90% of the contribution go directly to the program and see and hear exactly what was accomplished with those funds.

Joanne Callahan, MBA,
President, TFT Foundation
Click here to download the latest newsletter
Click here to download the latest newsletter
______________________________
New Field Report:
The Challenges and Opportunities of Introducing Thought Field Therapy (TFT) Following the Haiti Earthquake.
Phyll Robson and Howard Robson. Click here to download.
___________________________________
Our Mission:- To help alleviate the mental suffering of those that have experienced trauma and pain.
We are the UK based non-profit making charitable foundation for the use of Thought Field Therapy (TFT). As a body, we aim to support and promote the use of TFT by allowing access to those in most need and distress to help alleviate mental suffering, and to further research and education for the benefit of all.
The TFT trauma relief technique is a very different treatment to that anticipated by those who are not familiar with it. It seems just too simple to be able to do much of anything. And yet, 30 years of testimony from thousands of people around the world show it to be revolutionary in its ability to help people achieve emotional freedom and peace of mind.
Simply put, its effectiveness, speed and power defy all expectations and previous experience. The standardised treatments, which were derived through diagnosis, are available to anyone, regardless of education, nationality, age, race or creed. And thanks to the internet and donations by our sponsors, they are available free via the internet.
To enable us to help with Post Traumatic Stress Disorders (PTSD), alleviate suffering of victims of attack or rape, offer assistance after devastating natural disasters, and many other mentally debilitating scenarios, we need your help.
As a charitable foundation we rely upon donations from people like you to help us continue our work.
Donating is simple, just click on our 'Donations' page to see how to give. We are also delighted to hear from UK Businesses who would like to support our programmes of assistance.
In this website we will show much of the work that is being carried out, but there is so much more to do, particularly in light of the many war torn area's in the world.
Our work is carried out at home and abroad, whether it be with British returning servicemen or members of their family, or victims in Rwanda or helping with the devastation left in Haiti.